The Conscription Debate
Twice during the First World War Australians were asked to vote in a national referendum on introducing conscription.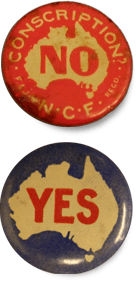 The 1916 referendum failed when 51 per cent voted no. In 1917 the war continued. The armies of Europe were deadlocked and the war had worsened. In desperation Britain asked for fresh troops. During the federal election campaign in 1917, Hughes promised that 'if national safety demands it, the question will again be referred to the people'.
At the election Billy Hughes gained a majority in the Senate. Parliament could have introduced compulsory overseas service. Instead Hughes called a second referendum for 20 December 1917.
The conscription debate divided the nation. Listen to the audio clips below to find out some of the arguments. What other arguments can you think of? How will you vote?
Audio is recorded by actors from historical research.
'I won't shirk my duty. We all got to do our bit.'
'Don't go robbing Australia of its white blood and leaving it open to the coloured workers of the world.'
'Vote 'No' - for Ireland. How can we support Britain when they oppress and murder our fellow Countrymen?'
'If he doesn't get himself a uniform then I will cheerfully die an old maid'